We are so proud to announce the 2017 winners of the Fundraisers CHALLENGE. Trafigura, for the 4th year in a row, took home the cup for the Corporate category by raising CHF52,000. For the Open category, it was All in Sync raising CHF19,410!!! We thank ALL of our amazing teams this year, as together they raised CHF131,352!!! The overall amount raised for the 2017 festival was just over CHF200,000. Our heartfelt thanks go to all who supported our event. These funds go a long ways in directly helping cancer patients and their loved ones in the Lake Geneva region. We look forward to 2018! Go to Support Your Team to see how your team did.
Raise over and above your team's registration fee to compete in the Fundraisers CHALLENGE. Help fund our vital support services, outreach and a local cancer related charity. Almost every one of us has been touched by cancer in some way and it is our mission to ensure that we can continue offering professional support services to cancer patients and their loved ones.
Be the best at getting the most!

To help your Corporate or Open team take home the very prestigious Fundraisers CHALLENGE Cup, simply:
raise as much money as you can, then
DONATE in support of your favourite team (Our CHALLENGE is now over and we are proud to announce Trafigura as the Corporate Champions raising CHF52,000 and All in Sync as our Open Champions raising almost CHF20,000!)  Thank you for your support!
Money raised from the Fundraisers CHALLENGE goes directly to fund our vital Support Services and Outreach efforts as well as a portion going this year to support Zoe4life's Beads of Courage programme.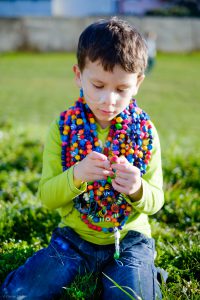 The KANJI PROGRAM: BEADS OF COURAGE
The Kanji is a programme for children with cancer in all of Suisse romande, put in place by the Ligue vaudoise contre le cancer and funded by Zoé4life.  Children receive beads for every treatment procedure and milestone that they encounter. A child can tell you what every single bead on their sometimes 1,000 bead strand signifies, from blood draws, nights in the hospital to hair loss and transplant. Their beads help them tell their story and honour and recognize their courage.  Learn more about Zoe4life.
Online donations will be accepted until Friday, 1 September 2017. Donations WILL BE ACCEPTED ON THE DAY! The winners will be announced after final tallies at 15h00 on the day of the festival.
CHALLENGE Cups are awarded to the top fundraisers in the Corporate category and Open category.