What a great day it was!!
Please find below the results from the 2018 Paddle for CancerSupport Dragonboat Festival, held at Lac de Joux on Sunday 2 September.   The weather cooperated, the teams were well prepared and organised, and everyone had a wonderful time paddling and fundraising for a great cause.  We cannot thank you all enough for your generosity and good spirit.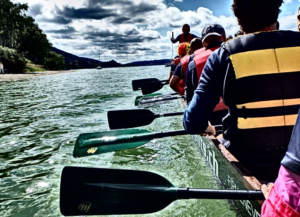 2018 FINAL Races Placements  (You are all winners!  Thank you for your support.)
All Female
1st Birds of Paradise
2nd Bosom Pals Paddlers
Open Teams, mixed gender
1st Nations Paddlers
2nd LGB Power's Poodles
3rd La Cote Lions 2
Corporate
1st The Flying HECkers
2nd The daVincibles
3rd The INEOS Team
LAC DU JOUX 2018 FINAL : TIMES
2018 : BEST TIMES FOR ALL TEAMS
We're already looking forward to 2019 with a good many teams already pre-registering!
SAVE THE DATE:   2019 September 1st.  Always the first Sunday in September.
Would you like to be kept informed with team information?  Send us an email: info@paddleforcancer.ch