Three Team Categories:  Corporate, Open-Mixed Gender, and Open-All Female

Best three placings in each category go home with a team trophy, and medals for all team members.  For details please contact info@paddleforcancer.ch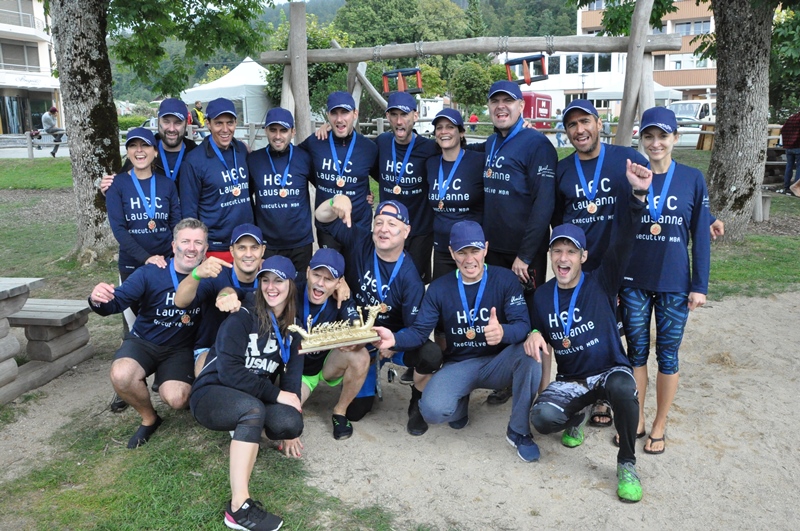 Corporate teams
Racing under the banner of their enterprise or organisation and are comprised of employees, members, and their families
Requirements for Corporate Teams:
ο A minimum of 4 female paddlers in the boat
ο Team members must be 15 years of age or older
ο Teams consist of up to 20 members (16 paddlers, 1 drummer, and up to 3 substitutes)
ο CORPORATE REGISTRATION FEES are CHF 5000 per team.  See additional options below
Many advantages for a Corporate Team:
ο For information please contact info@paddleforcancer.ch
Photo:  2018 Winning Corporate team, The Flying HECkers – Executive MBA HEC Lausanne
Open – Mixed Gender Teams
Open Teams are made up of keen dragon boaters from all walks of life who enjoy paddling for an amazing cause!  Some examples of Open Teams include: Breast cancer support teams, University or high school student groups, clubs, friends, workplace friends
Requirements for Mixed Gender-OPEN teams:
ο No restrictions on individual team members in terms of employer
ο A minimum number of 4 female paddlers in each race
ο Team members must be 15 years of age or older
ο Teams consist of up to 20 members (16 paddlers, 1 drummer, and up to 3 substitutes)
ο REGISTRATION FEES are CHF 2000 per team.  See additional options below

Photo:  2018 Winning Mixed Gender team, Nations Paddlers

Open-All Female Teams
Requirements for All Female-OPEN teams:
ο Same as mixed gender except, of course, ALL team members must be FEMALE!
ο No restrictions on individual team members in terms of employer
ο Team members must be 15 years of age or older
ο Teams consist of up to 20 members (16 paddlers, 1 drummer, and up to 3 substitutes)
ο Registration fees are CHF2000 per team. See additional options below
Photo:  2018 Winning ALL Female team, Birds of Paradise
Open teams from companies or clubs are not permitted to use their logos or names as part of their team names

Please note: For all teams, registration fees are not refunded in the event of cancellation
OPTIONS for both Corporate and Open Teams:
ο Professional dragon boat training session at DB2: 300CHF
Payable directly to Dragon Boat Club of Divonne-les-Bain
ο Paddling presentation at your place of business ~1 hour: FREE
We'll explain the fine art of paddling a dragon boat and share team winning strategies
ο ½ page A5 festival programme advert: 300CHF
OPTIONS uniquely for Corporate teams:
ο Food and Beverage vouchers 5CHF ea.  Avoid cash at the Festival and use prepaid vouchers instead
Example: 3 x 5CHF=15CHF (15CHF x 20 team members= 300 CHF)
Vouchers can be used at the food and beverage stands at the festival
ο Private team tent with tables and benches (NOTE: limited number of private tents)
Single team tent: 1,500CHF
Double team tent: Variable price, depending on m3
Fridge, if drinks are pre-ordered through PfCS: 50CHF
Pre-ordered drinks are brought to the tent placed in the fridge early morning on race day: Variable price (dependent on order)
The Fundraisers Cup CHALLENGE – Above and Beyond the registration fee.
No obligation! But we'd be grateful. And the winning team goes home with a Trophy and Champagne as our Thanks to you!
Encourage your team members to participate in the The Challenge! We are asking EACH participant to fundraise CHF50.- above and beyond the registration fee. These funds raised will be specifically allocated to our Support Services, Outreach and a local cancer charity.  Donate in the name of your favorite Team!
Bank details:
ESCA CancerSupport | 150 Route de Ferney | CH-1211 Geneve 2 | Switzerland
UBS Acct. Number: 0243-341674.02T
Clearing number 243 (UBS SA, CP, 1002 Lausanne)
IBAN CH500024324334167402T
Cancellation / Changes
Paddle for CancerSupport will take place come rain or shine so please come prepared!! However, in the event of dangerous weather conditions, high winds for example, the organisers of Paddle for CancerSupport reserve the right to change race order and/or cancel races in order to ensure the safety and well-being of participants, spectators and volunteers.
*Please note: registration fees are not refunded in the event of cancellation.